private charters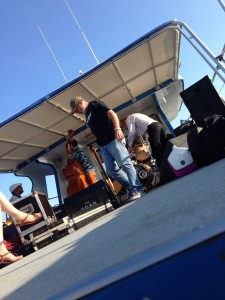 The Captain's Lady III is available for weddings, anniversaries, birthday parties, corporate meetings, company outings, class trips or any other special occasion. We can ferry you to the Isles of Shoals off the Maine and New Hampshire coast or take you on a slow sunset cruise on the Merrimack River. We'll be happy to offer suggestions to help make your event a memorable trip for all on board.
Our experienced staff will handle all the details so your wedding, company outing, or class trip will be perfectly planned and executed. This boat is designed to ensure a successful, seamless presentation that will exceed your expectations. Whether it's a dinner cruise or corporate fishing event, take advantage of Captain's Fishing Parties resources. We have several options available for your consideration that will compliment you're needs. If you are considering a corporate function or group trip don't hesitate to give us a call and discuss our rates and accommodations that will make your event a success.
Private Charter Details & Itineraries
Groups to 149 people
Friendly bar service
PA system
Cordless microphone
Top deck with open space for DJ/Band & dancing
Large [heated] indoor cabin
Full Catering Service Available
Evening Cruises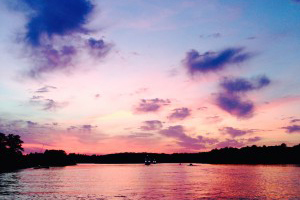 Why have your party in a boring function hall when you have it on the beautiful Merrimack River! Bring your event to the water with us and we'll take you on a smooth ride up and down the river where you can watch the sunset and dance the night away. The second deck is perfect for a DJ or a band and has plenty of room for dancing or other activities. We also have a cash bar service in the large cabins that can seat your guests. We can use your caterer or ours. It is very easy to tailor these cruises around your wants and needs for your particular event.
Private Whale Watches
Most our our trips are 4-5 hours. Each season we see a variety of marine life which can include humpback, fin and minke whales as well as dolphins, seals, sharks and more. We can travel to either Jeffreys Ledge or Stellwagen Bank National Marine Sanctuary. Each trip is expertly narrated by one of our naturalists who will offer detailed information on each species we may encounter, we also offer
hands on
activities, which include touching real whale baleen, teeth, and bones! Both children and adults have the opportunity to ask questions not only with our naturalists but our captains too!
Experience the Isles of Shoals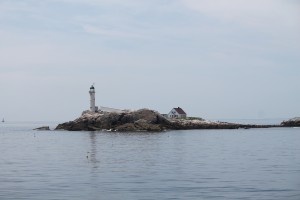 Located just miles from the mouth of The Merrimack River lies the beautiful Isles of Shoals. The isles consist of nine rocky islands some of which are located in Maine waters and others in New Hampshire waters. The islands were named in 1614 by English explorer Captain John Smith. Island is the home of the Oceanic Hotel, in her hay day was one of the grandest hotels in the area and still host guests for a day, night, weekend, even a week! Many stories are told about Captain Kidd, Blackbeard the pirate, and even the lady ghost of White Island. Leave your worries on shore and spend a relaxing, peaceful time among the Isles of Shoals. Visit the Oceanic Hotel and enjoy coffee or a cold beverage, grab a snack at the snack bar and grab a cozy rocking chair on the impressive covered porch and enjoy the sounds and sights of these beautiful islands, one of New England's gems to visit. This cruise is perfect for any occasion.