our crew
The Charos Family has owned and operated Captains Fishing Parties on Plum Island for over 40 years. In 2013, Captains Fishing Parties purchased Newburyport Whale Watch and the largest of their 4 boats, The Captain's Lady III, has become the new whale watching vessel for the company.
Chris Charos, Captain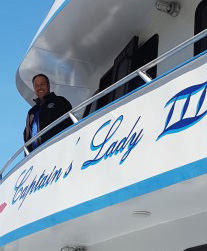 Chris started as a deckhand at Captain's Fishing Parties at a young age. After graduating from Georgetown High School, at 19 he obtained his captain's license and with a natural ability to operate a boat, he hasn't left the wheel house since. Chris obtained a degree in Architectural Engineering from Franklin Institute. Chris, his brother (Ryan), and their father cooperatively run Captain's Fishing Parties (and Newburyport Whale Watch) and together they designed and built the newest and largest boat in the fleet, the Captain's Lady III. Chris is most often found in the wheel house or engine room of the Captain's Lady III, running most of the whale watches and has gained a great appreciation for whales since the purchase of the Whale Watch. Chris's daughter Hailey can often be found on the boat as well, managing the crew or looking for whales.
(George) Ryan Charos, Captain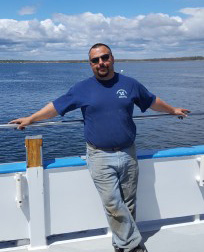 Ryan spent his childhood summers in Plum Island on and off fishing boats with an early love for boating. It didn't take him long to be more than just a passenger on the fishing boats, by the age of 14 he was already a deckhand. He worked hard both on the boats at Captain's Fishing Parties and at a local pizza place. He got his captain's license at the age of 21. By 25 he focused on the water and hasn't looked back. He obtained a degree in Business Management. Ryan, his brother (Chris), and their father cooperatively run Captain's Fishing Parties (and Newburyport Whale Watch) and together they designed and built the newest and largest boat in the fleet, the Captain's Lady III. After all that hard work, Ryan now mainly captains night cruises and tends to be more "behind the scenes", making sure all the boats are running smoothly and safely. When Ryan does have the opportunity to run a trip it often ends up as a very memorable one! Ryan and his wife live in New Hampshire with their daughters Arlia, Bristol, Cora, and their 4 legged family members.
Patty Adell, Naturalist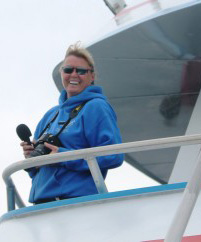 Patty grew up on Plum Island, born with sand between her toes. From a very young age the ocean and the animals who call it home was a major part of her life. She went on her first whale watch out of Newburyport in the early 80's and the love of whales was born. Whales needed a voice and she wanted to be that voice, and the best way to do that was aboard whale watching vessels. "The open ocean is the best teacher, studying whales in their natural habitat has been the best tool." Patty started her soon to be career as a galley girl with eyes an ears wide open, through many years of courses, workshops, conferences, and years on the water her dream came true. All marine mammals are important to her especially our local seals. Patty had been a volunteer for The New England Aquarium since 2005 with rescue and rehab of marine mammals both large and small, a job she holds near and dear. She is now currently involved with the Seacoast Science Center's Marine Mammal Rescue Team. Patty has two beautiful daughters and three favorite four legged friends, Charlie and Glory the dogs, and Bob the cat.
Amy Warren, Naturalist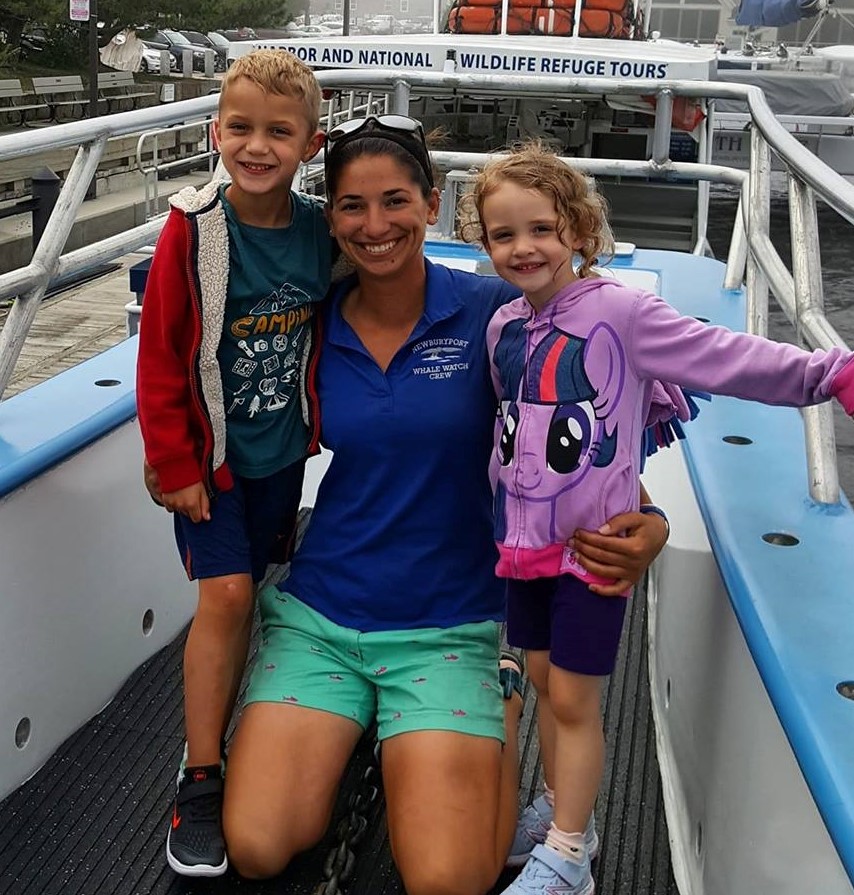 Amy grew up in Portsmouth, New Hampshire and with an early love for whales and dolphins she focused on them as much as possible during school. She got a Bachelor's Degree from the University of New Hampshire studying Marine Biology. One of the highlights of her college experience was living out at the Isles of Shoals. This was a month long marine science class on Appledore Island.After college Amy did a summer internship with Blue Ocean Society for Marine Conservation working on 3 different whale watching vessels. The next summer Amy came back and started working for Newburyport Whale Watch as a deckhand and has since become one of our naturalists.In the winter Amy migrates with the whales. In the months we aren't whale watching she travels down to the Southeast US (SC, GA, FL) to study the critically endangered North Atlantic Right Whale. Down south she participates in aerial surveys off the coast looking for right whale mom's and their young in their winder calving grounds. Amy also volunteers with the NH Marine Mammal Rescue and Response team now run by the Seacoast Science Center.When Amy's not looking for whales from a boat or a plane she enjoys SCUBA diving, birding, naturing, and just being outdoors.