educational trips
Newburyport Whale Watch offers a variety of trips in addition to public whale watching. Each trip allows students a hands on learning experience, the opportunity to speak directly with our naturalist, captain, and crew to answer any questions they may have about the Marine Environment, History, and of course the many marine mammals and other marine life we may encounter in each of our educational trips. Believe it or not many students have never been on a boat or even experienced being off shore! What a perfect way to introduce them to the wonders of our beautiful coast and The Gulf of Maine.
We are located on The Merrimack River in downtown Newburyport. The Merrimack River is 117 miles long and has a long history of culture, lore & legend, as well as many Naval ships that have been named in honor of the "Mighty Merrimack". Our goal at Newburyport Whale Watch is to offer a memorable, educational experience that will inspire children and adults to respect and care for the marine environment.
Whale Watches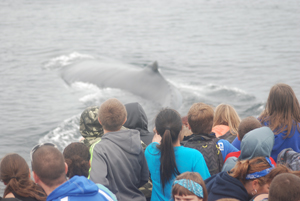 Most our our trips are 4-5 hours. Each season we see a variety of marine life. We can travel to either Jeffreys Ledge or Stellwagen Bank National Marine Sanctuary. The very comfortable large
Captains Lady
III
is 110 feet long and can reach speeds of over 20 knots. She has a large heated cabin for the chilly days and powerful cooling fans for the hot, humclass days. Our cabin has several dinette seats to accommodate large groups, outdoor seating on the open decks as well as our second deck. We offer a
full galley menu
, which includes a full breakfast, lunch, a variety of different snacks, and hot and cold beverages. Each trip is expertly narrated by one of our naturalists who will offer detailed information on each species we may encounter, we also offer
hands on
activities, which include gently touching real whale baleen, teeth, and bones! Both students and adults have the opportunity to ask questions not only with our naturalists but our captains too!
Species seen include: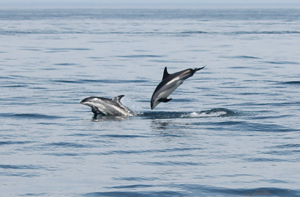 Humpback Whales
Finback Whales
Right Whales (a rare sighting)
Minke Whales
Atlantic White Sclassed Dolphin
Ocean Sunfish (Mola mola)
Harbor Porpoise
Harbor Seals
Gray Seals
Basking Sharks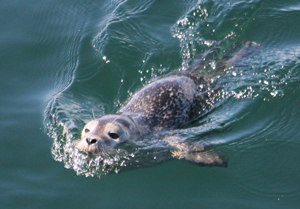 Birds are also seen which include:

Northern Gannets
Common Terns
Storm Petrels
Cormorants
Shearwaters (4 species on some trips!)
Floating Labs
Let us help you design a trip that will work with your curriculum and age group. Schools are welcome to bring there own equipment for sampling. Students have the opportunity to do hands on activities such as: dropping and hauling an otter trawl, plankton tows, learn about navigation, weather, salinity and a variety of other interactive work stations. Our professional crew has years of experience assisting with groups with questions about local history, the marine environment, inter tclassal plants and animals. We are confclassant your experience will be educational and fun, the best ways to learn!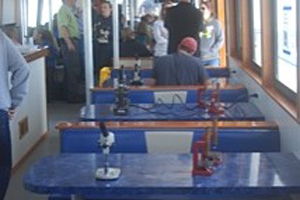 Plankton station with microscopes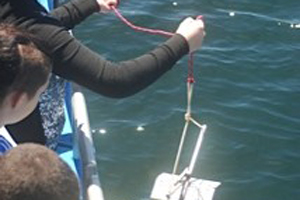 Bottom grabber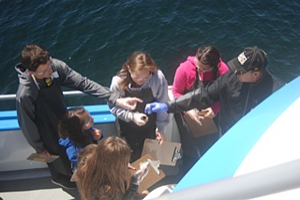 Water sampling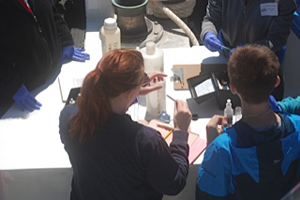 Water sampling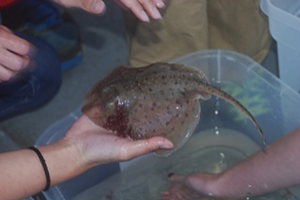 Hands on with wildlife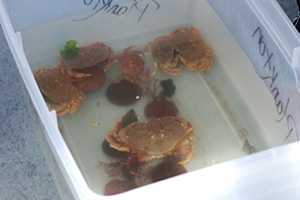 Trawling treasures
Experience The Isles of Shoals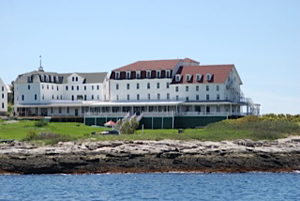 Located just miles from the mouth of The Merrimack River lies the beautiful
Isles of Shoals.
The isles consist of nine rocky islands some of which are located in Maine waters and others in New Hampshire waters. The islands were named in 1614 by English explorer
Captain John Smith
.
Star Island
is the home of the
Oceanic Hotel
, in her hay day was one of the grandest hotels in the area and still host guests for a day, night, weekend, even a week! Many stories are told about
Captain Kclassd, Blackbeard the pirate
, and even
the lady ghost of White Island.
Leave your worries on shore and spend a relaxing, peaceful time among the Isles of Shoals. Visit the Oceanic Hotel and enjoy coffee or a cold beverage, grab a snack at the snack bar and grab a cozy rocking chair on the impressive covered porch and enjoy the sounds and sights of these beautiful islands, one of New England's gems to visit.
This cruise is perfect for school groups as well as a corporate event, birthday parties, and breath taking for a wedding!
FOR MORE INFORMATION AND PRICING, DEPARTURE TIMES
PLEASE CONTACT NEWBURYPORT WHALE WATCH
1-800-848-1111
or

[email protected]